As LA temperatures climb into the 80s, some of us find the desire to chew diminishing. If you're too hot for solid food or just curious about adding raw dishes to your menu, rejoice! I've been guinea-pigging a couple of ridiculously simple, healthy options that should make your mouths Mmmf with gratitude.
RAW BORSCHT
The staple soup of My People, the original borscht calls for a minimum of two hours of cooking time, but this raw, pared down option will take you about 15 minutes to prepare. Because of this soup's intense detox properties, I do not recommend eating more than 2/3 of a cup in one sitting, or you might find yourself with mild flu-like symptoms, as your body cleans itself. Fortunately, it's very filling!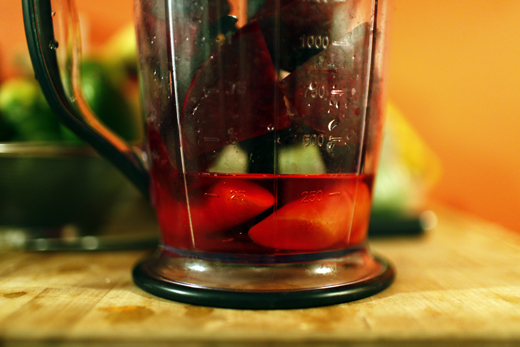 INGREDIENTS
1 beet
1 carrot
1/2 teaspoon grated ginger
a squeeze of lime juice
cumin, salt, cayenne pepper to taste
1 cup of filtered water [more if needed]
METHOD
Peel your beet and scrub your carrot, throw all of the above ingredients into your food processor [I use the Ninja system] and blend until desired consistency. Serve garnished with a dollop of sour cream, torn basil and dill or cilantro. This stuff refrigerates well, so you'll be able to enjoy it for a few days – and, like real borscht, it tastes its best on day 3.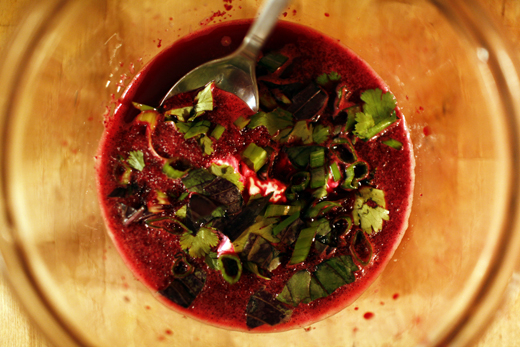 KALE + FRUIT SMOOTHIE
This. This is my new morning power drink. Be warned, this blend is somewhat sugar-heavy, but UH MUH GUHH is it ever so delicious, and still packed with great things like fiber and vitamins, so pftt.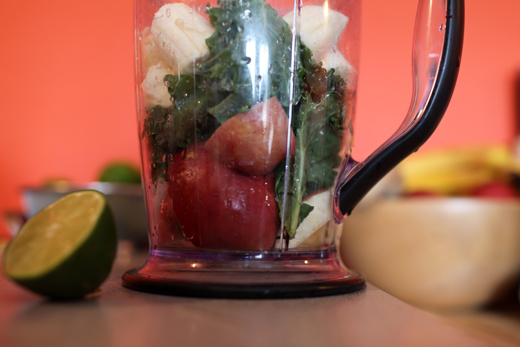 INGREDIENTS
two-ish cups of kale, de-stemmed and torn
one apple, cored and sliced in 4
one banana
ice – I use 1/2 cup
juice of 1 lime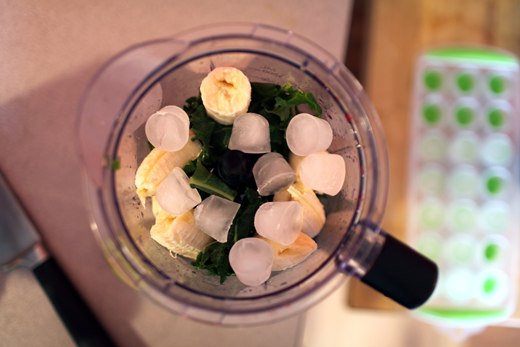 METHOD
Blend, drink up.