On Saturday, roughly six months after we moved in, A and I had a little rocket-warming party to celebrate what's finally beginning to feel like home. We don't have people over too often, so I decided to feed our friends in addition the customary alcoholic offerings. Being nowhere near the expert level necessary to hold a full on dinner party for thirty people, hors d'œuvres seemed the most reasonable plan of action.
Let me preface the rest by saying that, though I've prepared some of these things before, I have never prepared this much food for a party, certainly not on my own. I gave myself four hours to get it all done and to get dressed, which was not enough time. Fortunately, I have lovely friends who helped! Next time [and hell yes, there will be a next time], I'll probably begin everything six hours prior, to be on the safe site. On to the menu!
Cucumber and goat cheese sandwiches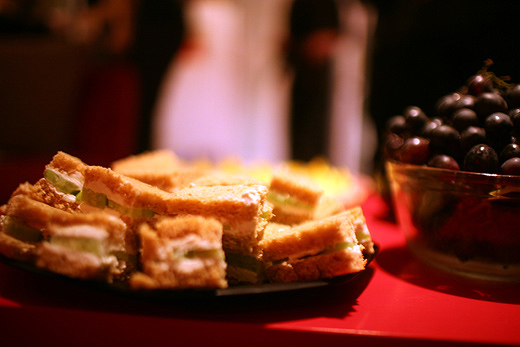 This is exactly what it sounds like. It's my spin on the classic cucumber sandwich, which is usually made with cream cheese. Just cover two pieces of bread with goat cheese, add a layer of peeled cucumber slices in between, cut off crust and then cut in two. Super easy, kind of time consuming. Worth it.
Deviled eggs with smoked paprika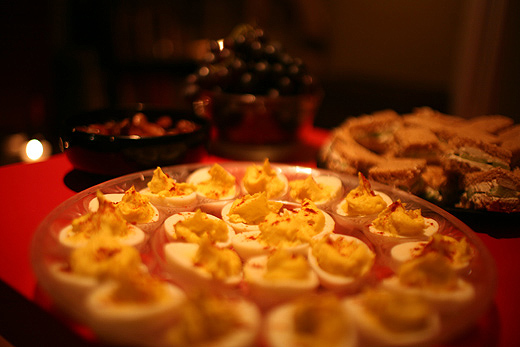 Boil ten eggs for 15 minutes, then peel and slice in half
In a bowl, combine yolks with mayo, mustard powder and black pepper. Sometimes I use cayenne pepper, instead.
Using whatever you can, fill the whites with yolk mixture. Some people have special filling thingies, but we cut a hole in a ziplock bag.
Sprinkle with smoked paprika. Done!
Spam Musubi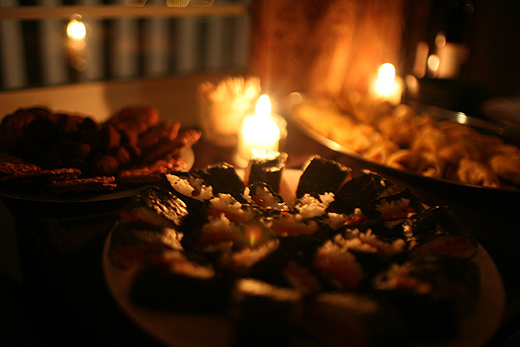 I fucking LOVE this Hawaiian dish. I loosely followed this recipe, adding Siracha to the sauce [AMAZING] and skipping the rice wine. Also, I just rinsed the rice 4 times and cooked it as usual in the rice cooker, and since I don't own a musubi press, I used a wide rice spatula to compact the rice. Do it. This will take about an hour and is, once again,  completely worth it. Even Courtney, who had said that there is no way she will eat Spam, was into it.
Bacon-wrapped dates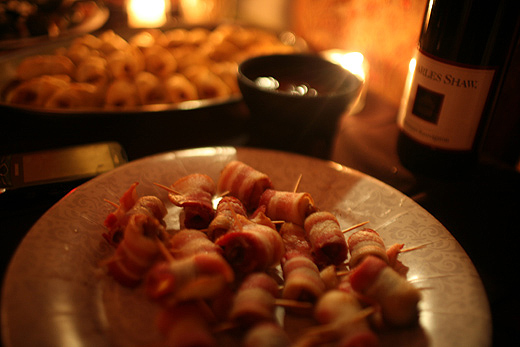 Wrap pitted dates in uncured bacon, securing with a toothpick. You can stuff the dates with goat cheese beforehand, but I didn't this time, because we were also serving fondue, and I wanted to have a lactose-free item.
Heat over to 350 F, bake for 20 minutes. Dassall.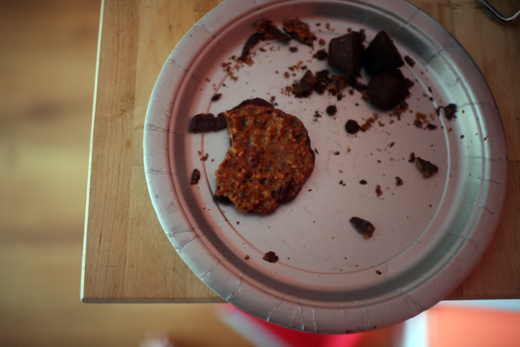 Also on the menu:
Trader Joe's pigs in blankets with TJ's organic BBQ sauce on the side
TJ's beer fondue – this is amazing. It comes in a bag, and though you may say to yourself, "Do I really want to eat something that comes from a bag?", yes, yes you do. We had sliced apples and French bread for dippin'.
Truffles
Black seedless grapes
Overall, it was all fairly simple, the only snag being time. Nothing burned and all the food was consumed with rave reviews, save for a few apple slices and the three truffles in the picture above.