It's almost time to emerge from move-induced seclusion, and the official occasion shall be this Saturday, June 5. See, I'm displaying my Pleiads paintings, along with a few smaller pieces, at an appropriately saucy event – The Poetry Brothel.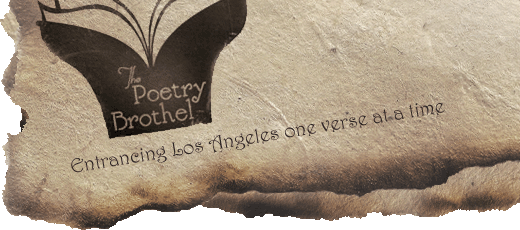 Please join me and featured performer Clint Catalyst at what's sure to be an unforgettable night of delights and debauchery. This installment's theme is "The Best Little Whorehouse in Los Angeles", time to bust out those tassels and spurs!
The Poetry Brothel
House of Blues, Foundation Room
8430 West Sunset Blvd. Hollywood, CA
Doors at 8:00 p.m.; event concludes at 11:59 p.m.
21 & over, w/valid I.D.
$15 at the door, $10 with RSVP via thepoetrybrothelrsvp@gmail.com
or via Facebook

I'll be covering and shooting for Chinashop, so come say hello and get your soul eaten picture taken. More about the event beyond the jump:
Join us on June 5th for steamy readings, cold drinks and lovely ladies performing burlesque for your titillation. In the old fashioned style of everyone's favorite Dolly Parton flick, dress to the nines and get ready to be sauced and saucy.
All of the resident 'whores' are available for these sequestered readings at any time during the event. Of course, any good brothel need a furtive 'front' or cover; ours is part saloon and part salon, offering a full bar with music, burlesque dancing, fortune-tellers, and installations from our poets and other artists at each event. [In addition to the featured readers], each night we will also introduce several "New Girls"…[performers] who punctuate the evening with a few special public performances.
Featured performers: Clint Catalyst and Julia Voth
Featured visual artists: Joshua Burian Mohr and Zoetica Ebb
Music provided by Daniel Ribiat
Bringing a new twist to the tradition of poetry reading, The Poetry Brothel showcases a diverse roster of emerging and established poets. Our events are also interactive performance art pieces based on the concept of the prewar brothels in the United States and Europe.
This is going to be good.