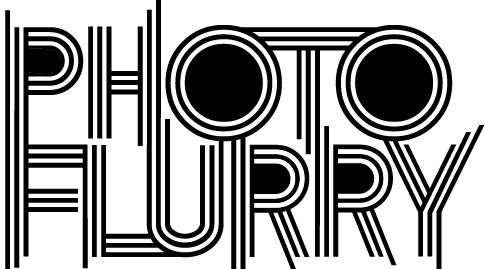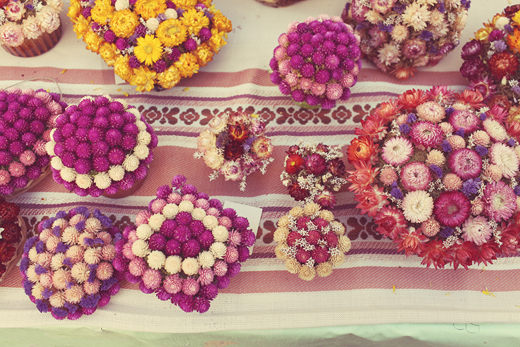 I'm back from the multifarious adventure that was Gašper's homeland, Slovenia, and would like to take you on a visual tour of my second day in Ljubljana, where we spent much of our vacation. We stayed in a small basement apartment owned by his family, which we found decorated with flowers and fruit. A welcome sight after a night of non-sleep before our very early morning flight, and the first hint of how lovely these people are.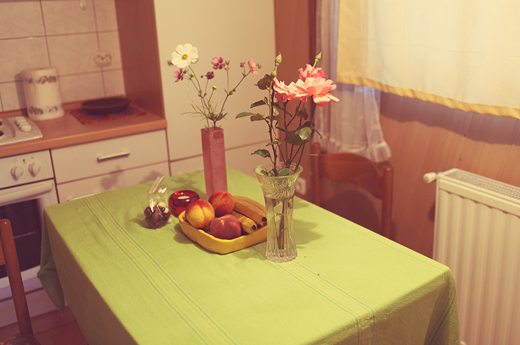 And if that weren't enough cuteness, G's grandma knit these slippers for me. Related: I love that grandma. She reminds me so much of my late grandmother, Tamara, it's uncanny. Both of these superwomen were single mothers with long careers in the medical field – my grandmother was a forensic pathologist, G's ran a pharmaceutical company. Both are glowing rays of calm grandma sunshine.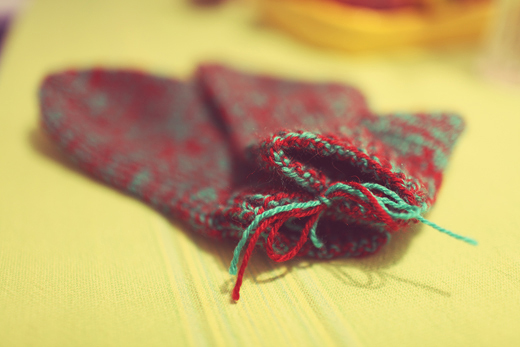 Feels like walking on blankets all the time.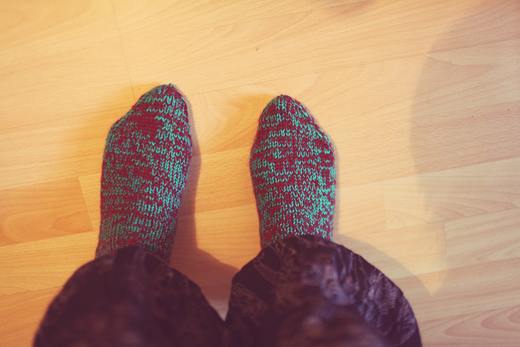 One of the reasons for the trip was Gašper's thesis defense a few days after our arrival, which meant he needed to spend those days studying, which gave me and his mom a chance to get to know each other beyond our occasional Skype chats. If that sounds intimidating, it wasn't – we bonded over a long night walk, fresh-squeezed juice and G-chat (sorry) the previous evening.
Walking around Ljubljana's city-center, per her suggestion, was a blast, too.
One of the first things I saw was a 3-D map of Ljubljana, with the Ljubljana Castle overlooking the city from its hilltop perch:
Wonderful hand-painted detail of an old building I spotted during the first part of our walk – to a coffee shop, because there was going to be no tour of the city without caffeination that day.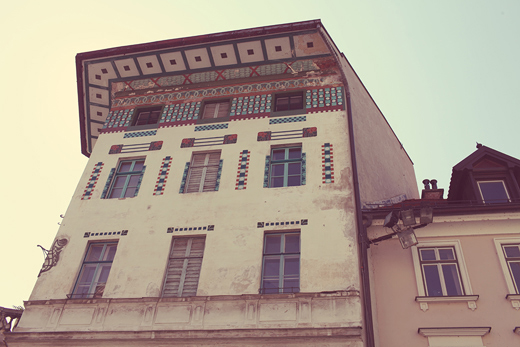 One of the many basketball-themed advertisements around town – it was game week, and Slovenians are really into sports.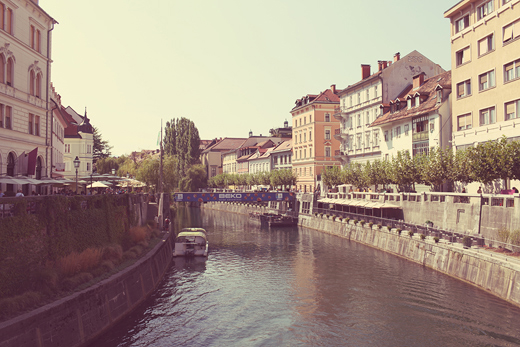 Proof.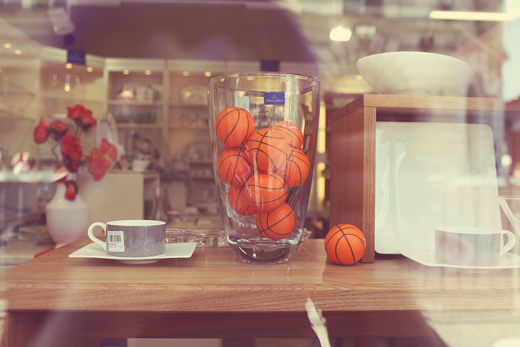 Zlati Dukat, the coffee shop we stopped in, was just the right amount of dim, with multiple rows of glass coffee jars behind its dark wood bar. Before we ordered, one of the staff guys came over with several of the aforementioned containers for our smelling pleasure, and so we could make an informed decision.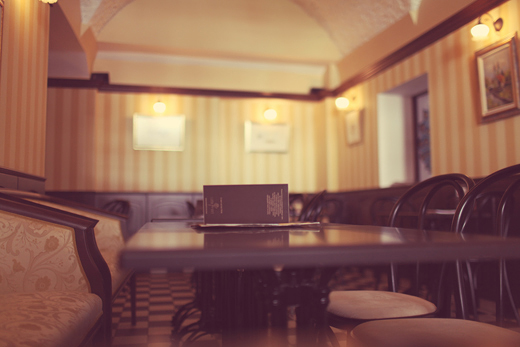 G's mom ordered this fluffy concoction while I stuck to my usual-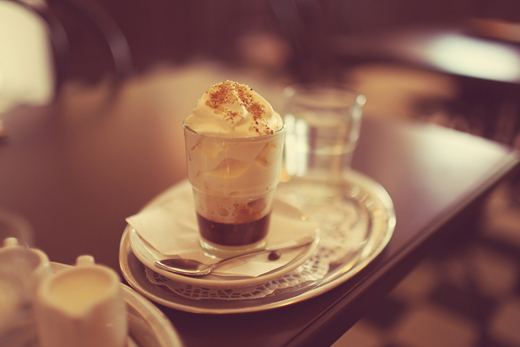 -a double espresso. It was excellent – so much so, that I eded up buying a bag of beans (their house blend) for the rest of our stay.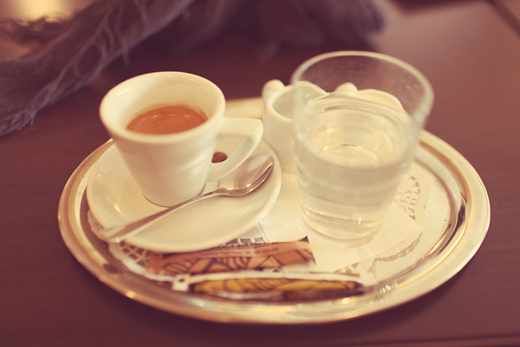 Fueled, we made our way past shops and kiosks,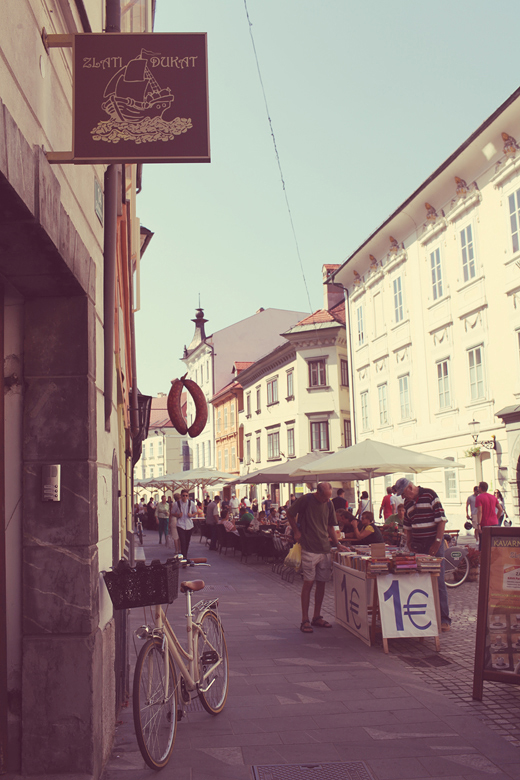 to the farmers' market. Dublin, I love you, but Ljubljana's organic produce wins, big time.
Slovenia is mushroom heaven. The cute, fat mushrooms below are "jurcki" and UH MUH GUHH G's grandma made us soup from them a few days later. I'll never be the same again.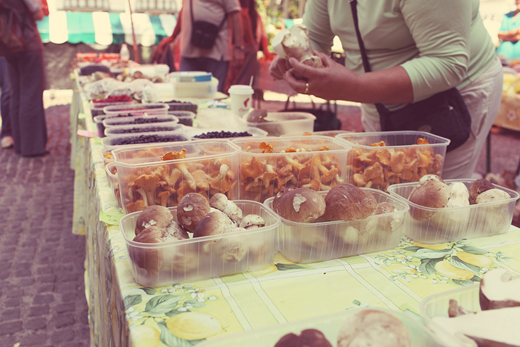 An intriguing selection of gourds: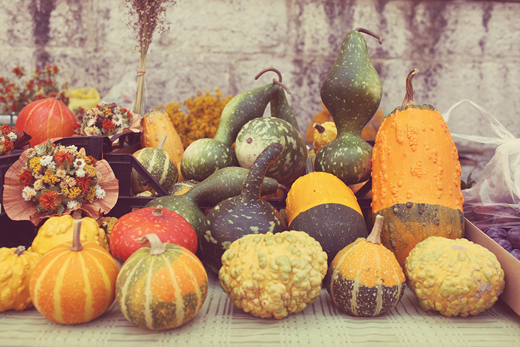 A large section of the market is dedicated to flowers, dried and not, as well as arranged bouquets and wreaths.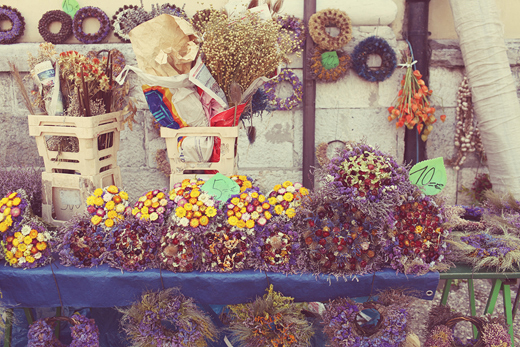 I spent a lot of time soaking in all that color and G's mom remarked that I looked appropriate among the blossoms, referring to my violet hair. B'aww.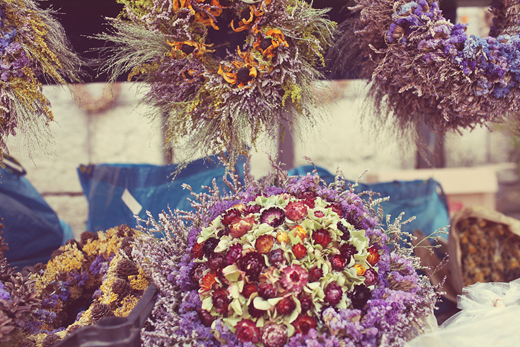 Forget Japan, I hereby nominate Slovenia as the kawaii-est place on Earth.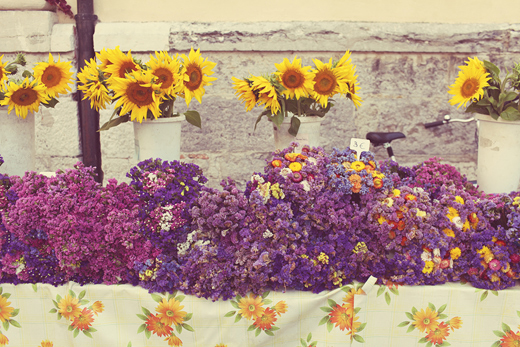 Hands down.
Even these wild boar and venison salami vendors were adorable.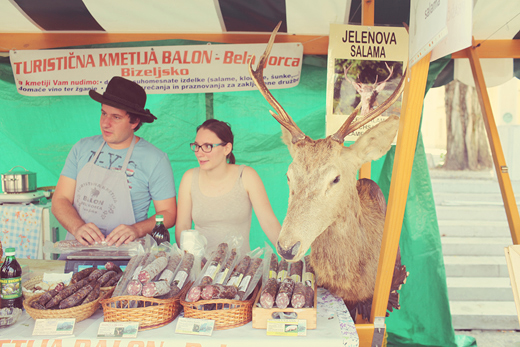 D'aww, pig.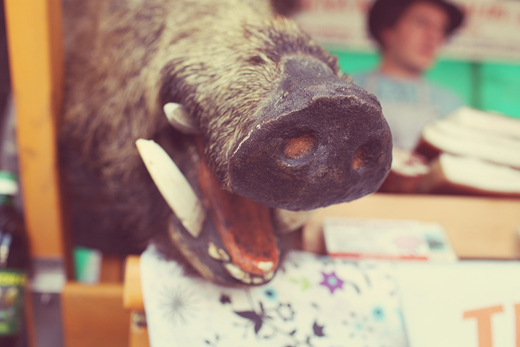 Just as I was beginning to get cuteness cavities, we left the market and happened upon a perfectly creepy church door.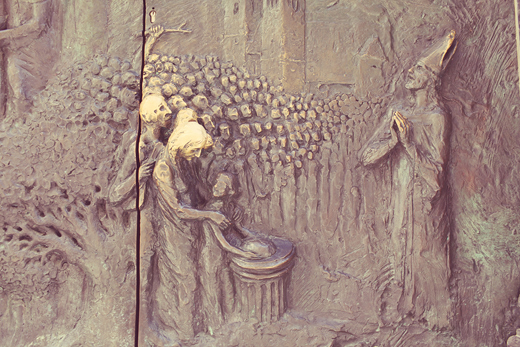 Door popes are watching you.
They like what they see. (The creepiest statues I've ever seen have always represented popes, especially at the Vatican, where those things are quadrupled in scale.)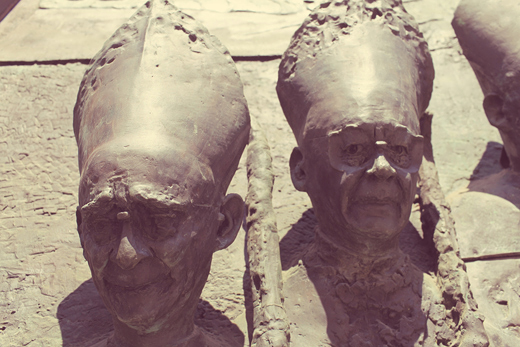 On the creepy tip,  as we made out way to Butchers' Bridge (Mesarski Most), we encountered several statues I liked a lot. It should be noted that I'm relatively indifferent to most statues. Here are Adam and Eve, running from Paradise: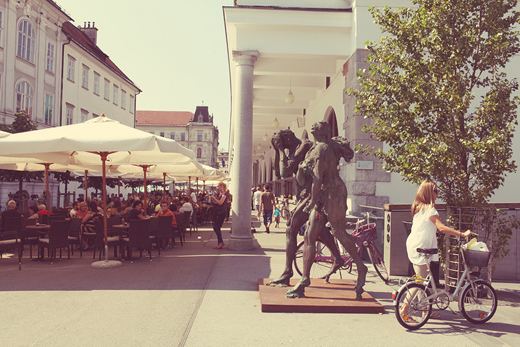 This is Satyr, "startled" by the Serpent: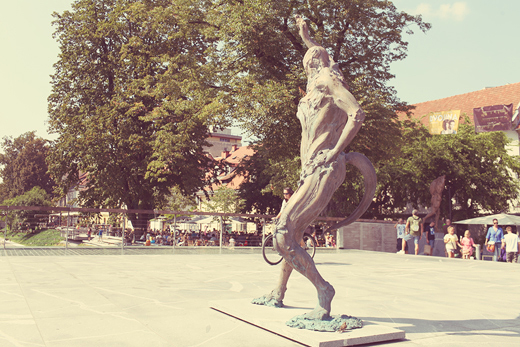 And, my favorite: a disemboweled Prometheus. Way to go, Ljubljana, seriously. I especially love the visible clay texture.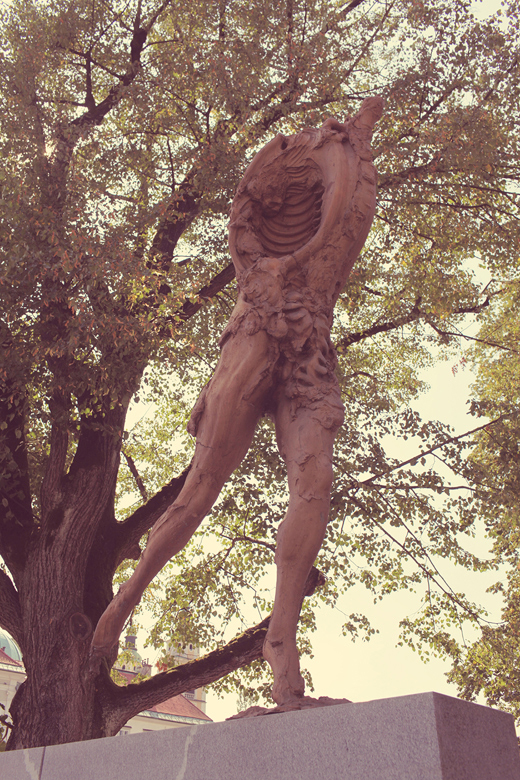 Prehistoric bronze… mollusks? The man behind all of these fantastic creatures is Slovene sculptor, Jakov Brdar.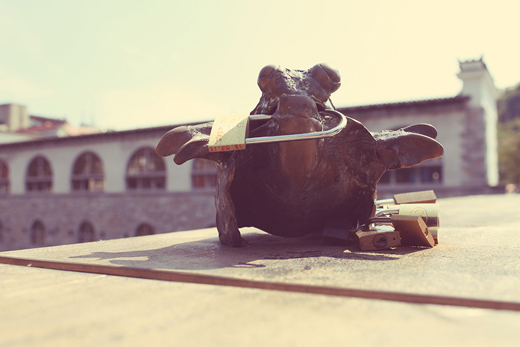 This man know what's good.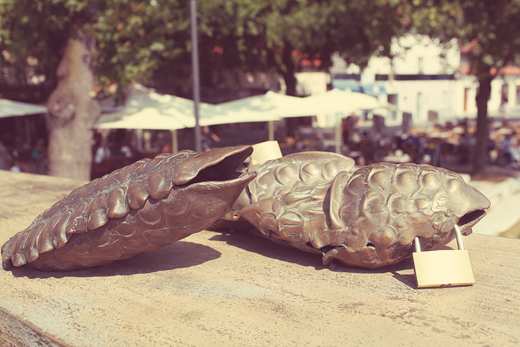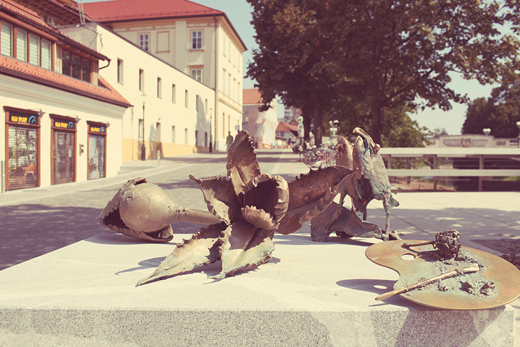 It wouldn't be a famous European bridge without hundreds of locks. I don't know who decided that locks are great representations of lasting romance, but unless we're talking Justine context, they tend to depress me – largely thanks to the guide we had in Italy one year, who told me their love locks get cut off every year to make room for new ones.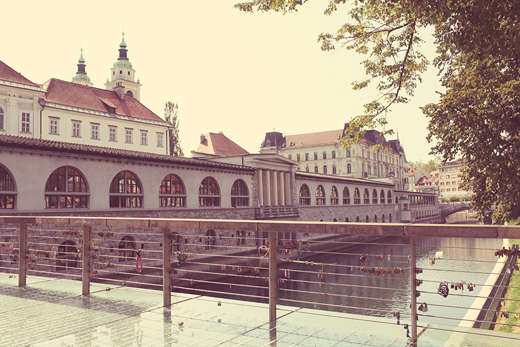 Onward, to the Dragon Bridge! The dragon is Ljubljana's official symbol, further adding to its overall awesome factor.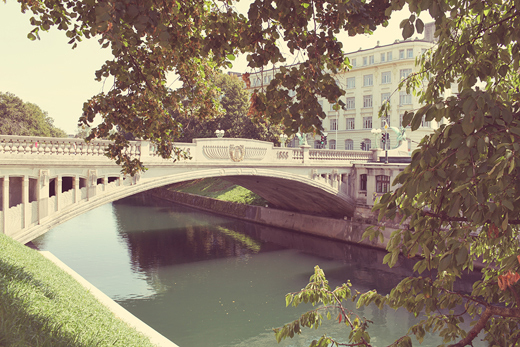 One of the best dragons I've seen. Just look at those neck wrinkles and mouth folds: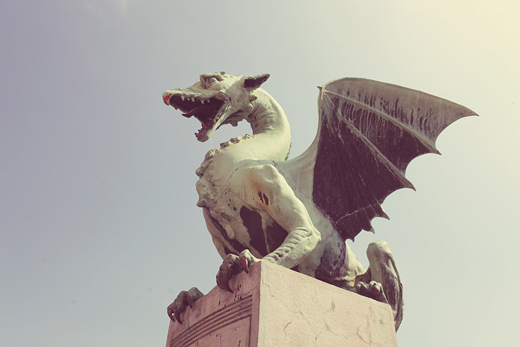 A disgruntled griffin: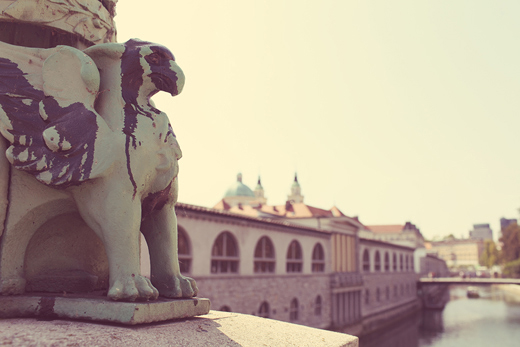 Having had our fill of bridges, we headed up a cobblestoned street to the Ljubljana Castle. A small dog announced our arrival.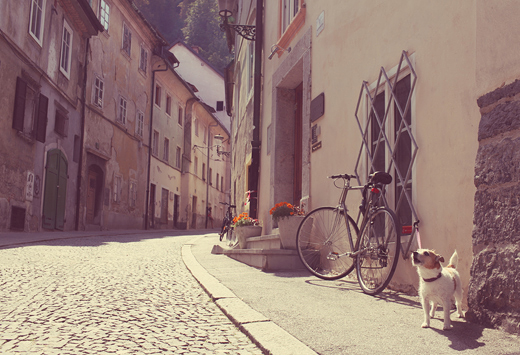 To get to the castle, you have to walk a tree-flanked uphill path, which is a delight in itself.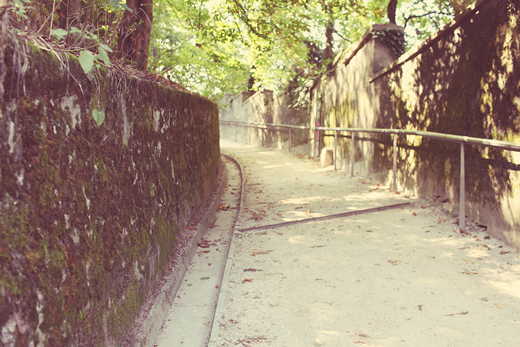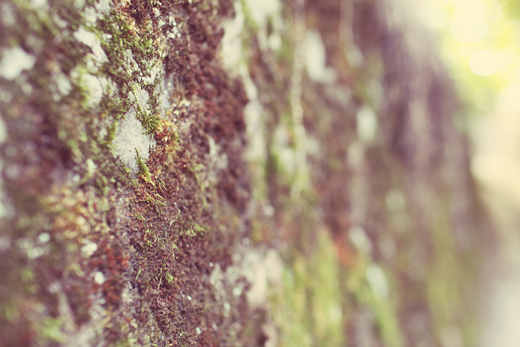 We came across many entertaining examples of Slovene graffiti – more of those here.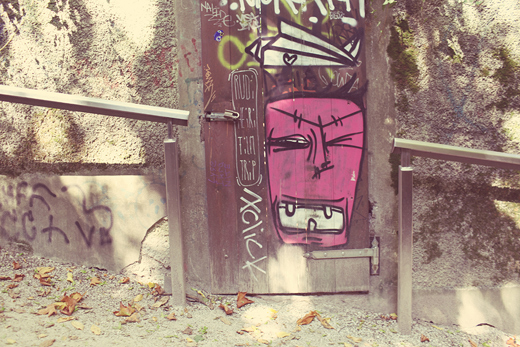 As we approached the castle, the view kept getting better and better.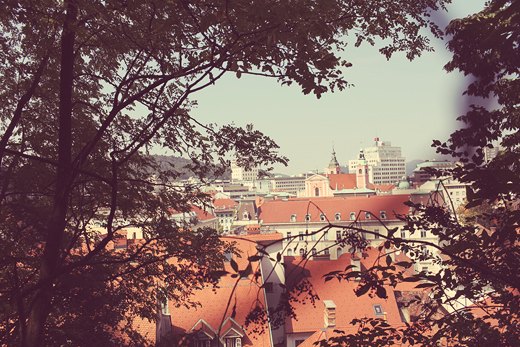 So many orange rooftops!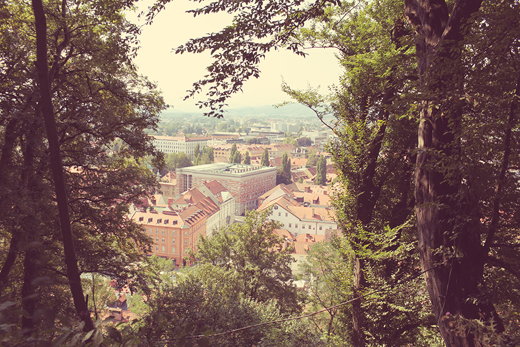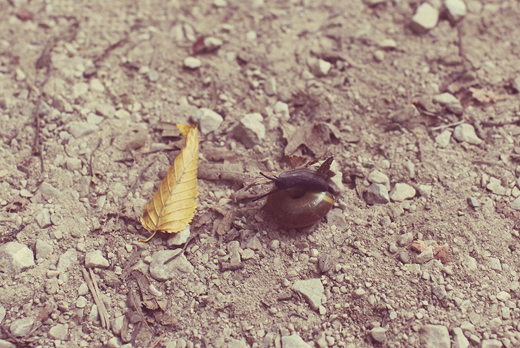 A statue dedicated to fallen partisans (I think).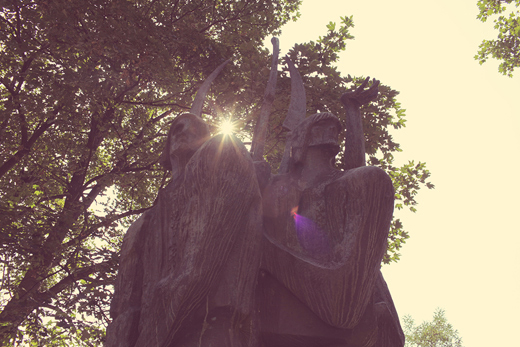 Approaching the castle.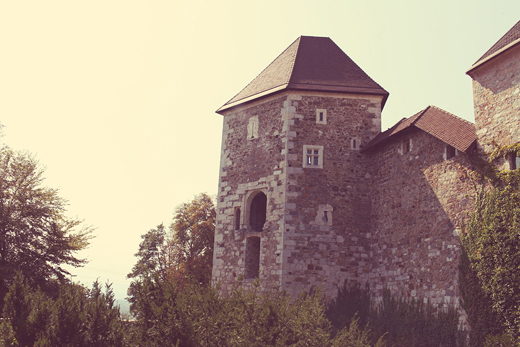 Preserved mural detail in the castle museum, on the theme of "Everyone's gotta die".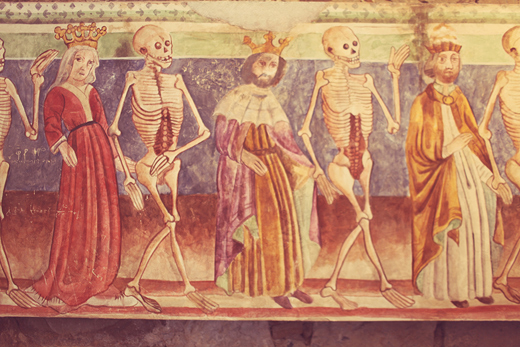 A nicely rusted lid of a well on castle grounds.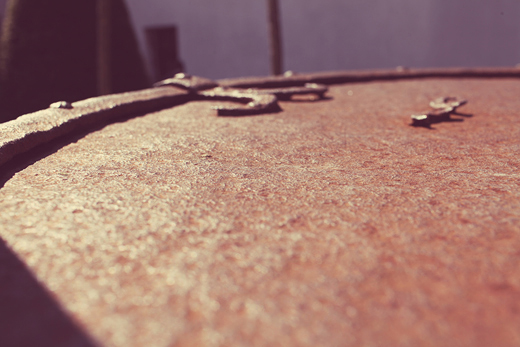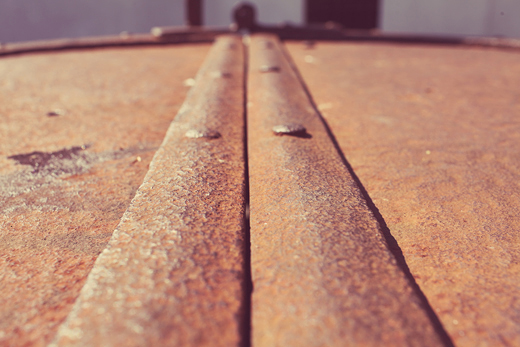 A Library Under Trees set-up! Another super-kawaii Ljubljana phenomenon, along with this.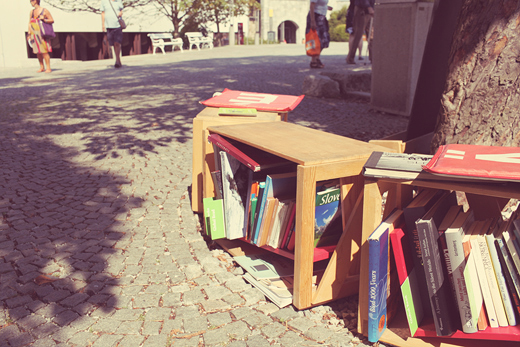 Winding stairs inside the castle.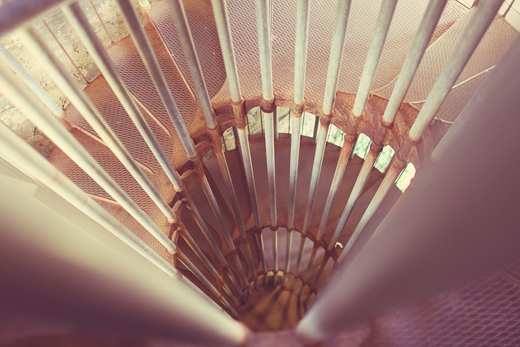 More of the city from up top.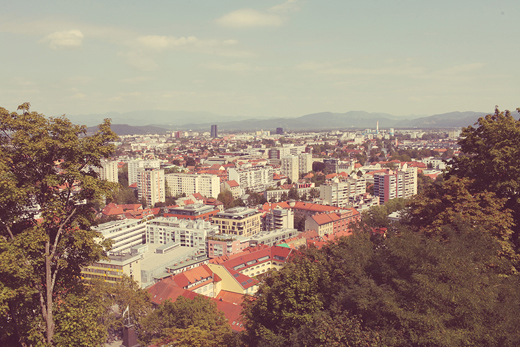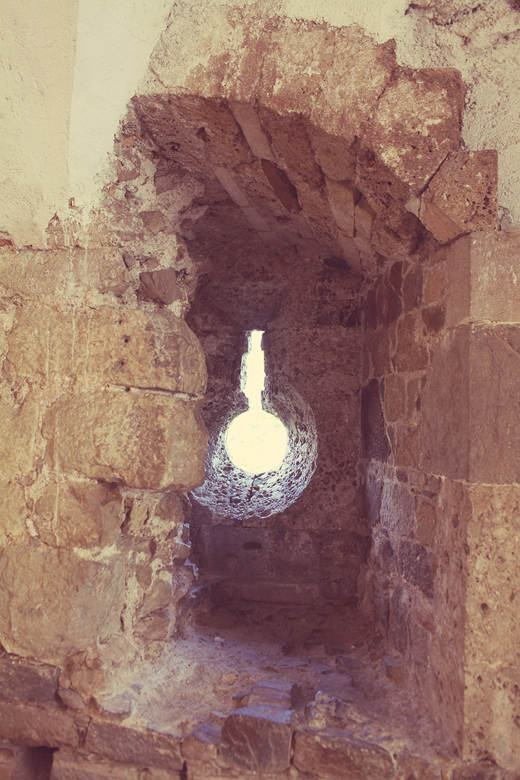 The Wheel exhibition inside the Ljubljana castle, as far as I could see, represents something between multiple planes of existence and a universal birth canal.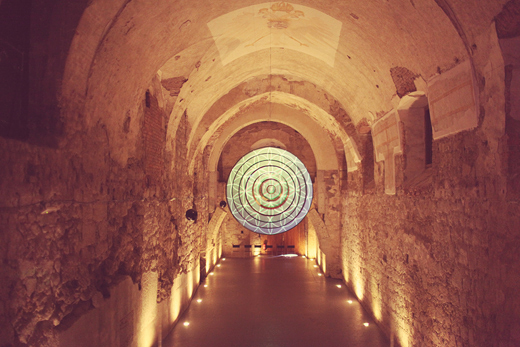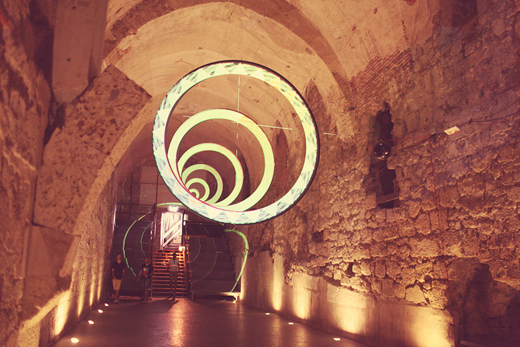 By this point in our journey, G's mom and I were getting hungry. It was around 2PM and it was time to head home.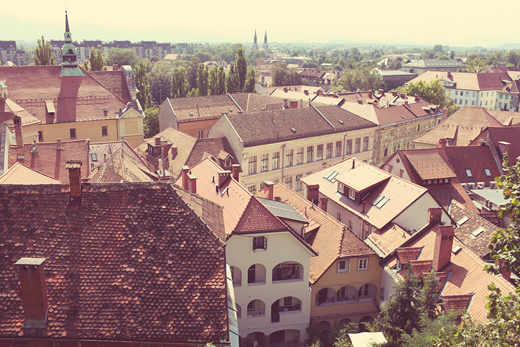 We took another way back, down a narrow path winding between stone houses.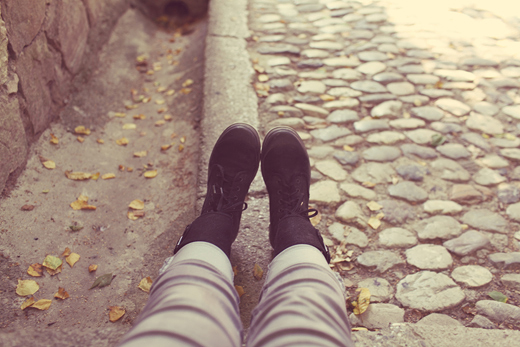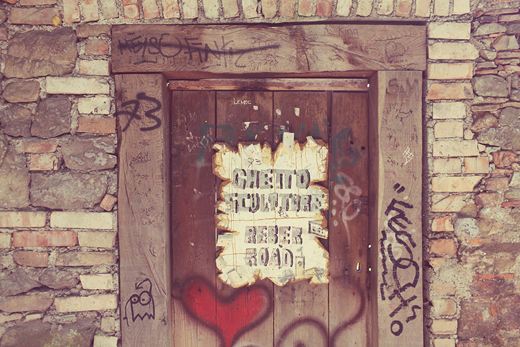 Back in old town, we passed this curious sight, which seems to be the source of much speculation, on and off the internet.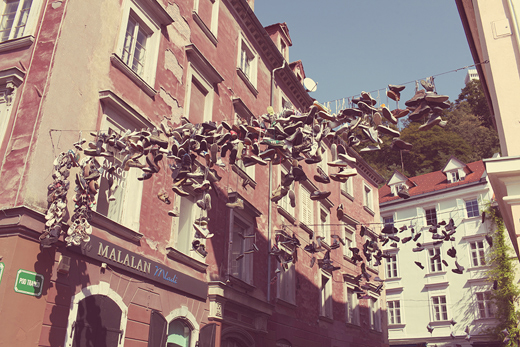 I liked this ironwork: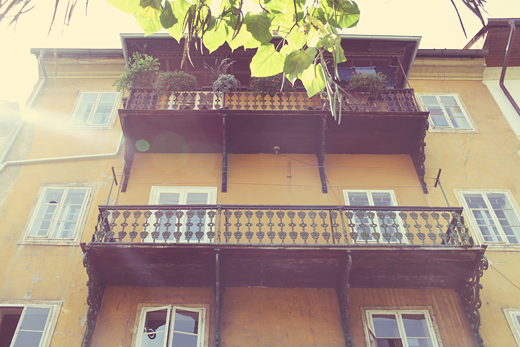 And this door: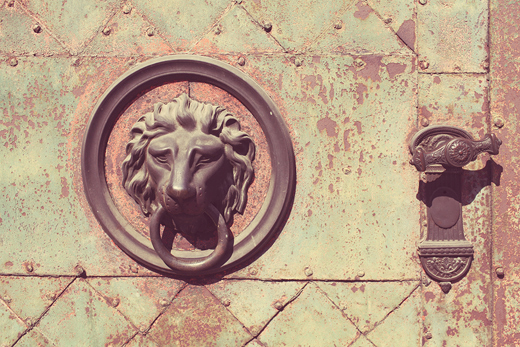 And when we got home, there was lunch and ice cream in a hammock under oaks. And trampoline-jumping with the neighbors' kids. And playing with a huge black rabbit, which is a big deal for me, because I usually avoid the toothy bastards.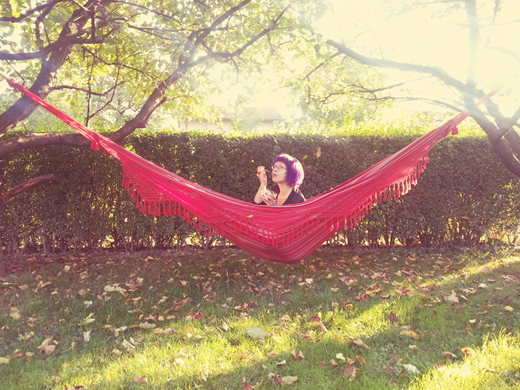 It was the perfect first day of vacation. More Slovenia posts when I get some work done!