…Because I don't celebrate Christmas. If you've been reading for a while, you know that this is because Christmas is a tradition I wasn't raised with, growing up in Russia. New Year's Eve was the Huge National Holiday, and so it remains to me.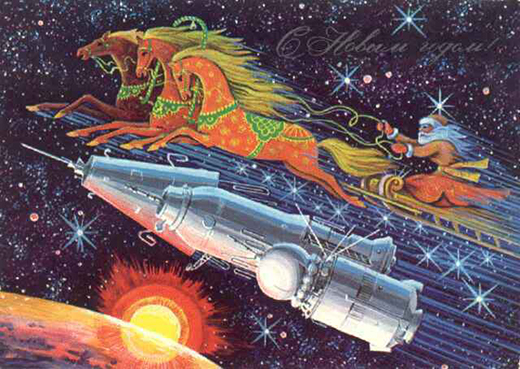 Ded Moroz flying through the stars
I put a lot of stock in New Year's Eve, actually. Renewal, dawggs, I'm all about renewal, especially after a year as life-changing as 2010 has been. For me, the two weeks leading up to NYE are for gathering everything I learned in the course of the ending year, writing it down and thinking of ways to implement – a sort of operating strategy upgrade, if you will. Days like yesterday – when I spend literally the entire day laying down with a demon migraine, which lingers still – those days don't  help, but I've got a head start – having filled several pages of a new Moleskine and spent quite a few days braining and recharging.
The migraine is still here and might stick around for a few more days, so I'll be taking my leave shortly. But first, a few points of interest and recent web findings for those of you online today, whether you don't celebrate either, or are stealing precious internet moments at you folks' house between family time and customary foodenings.

Also, and I've mentioned this on Twitter etc., HP is doing a super-awesome promotion that you need to get up on, STAT. Basically, you play a game and discover clues [and easter eggs] to win some serious prizes, like Dr Dre's Beats headphones [does the face shield come with those? I need.], HP laptops [!], and Lady GaGa concert tickers [do you know how much those suckers go for?]. In short: do it! I would so very much love for some of you guys to reap these GOODS. Click Dr. Dre's cyborg-face to play: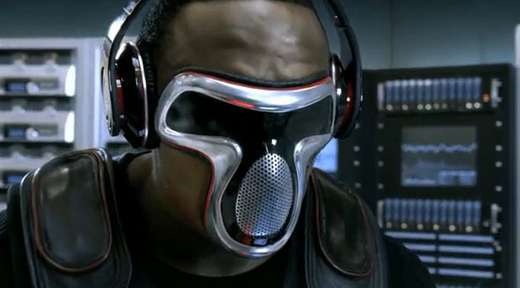 Aaand I'm spent, for now. Enjoy your days off if you got 'em and don't eat too much, Ded Moroz is watching you.