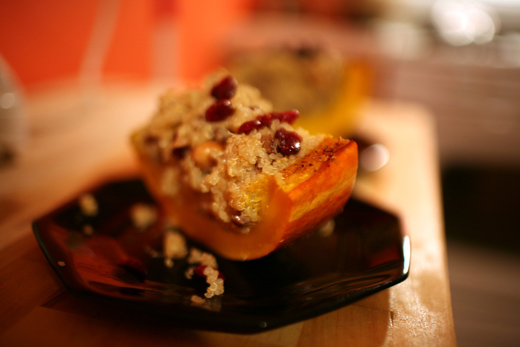 The sun has come out in LA after a solid week of glorious rain, much to my chagrin. Fortunately, it's still cold enough to crave winter food, so I'm going to share a simple recipe for a quinoa-stuffed squash. It's takes about 30 minutes to prepare and is easy to modify to make vegetarian. You will need:
1 butternut squash
1 cup quinoa
a protein of your choice
dried cranberries
walnuts or cashews
butter
cinnamon
cumin
coriander
honey
You'll notice no exact measurements – that's because with this recipe, I eyeball everything. It's not scary as long as you keep testing!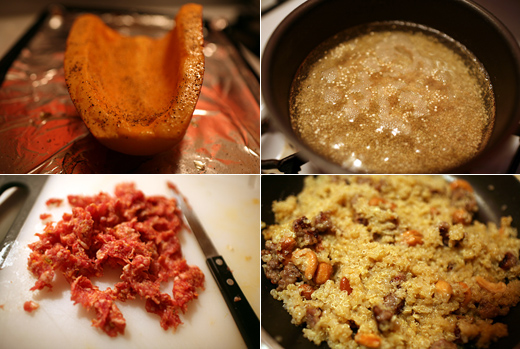 heat oven to 400F
halve and seed squash, using a sharp knife, scoop out some of the insides then coat the halves in butter, cinnamon, cumin and honey
bake cut sides up on a foil-covered cooking sheet for 20-30 minutes, or until soft
rinse quinoa well, and cook [Note: I buy pre-rinsed Trader Joe's quinoa so there's no rinsing necessary! Also, since I made this, I started making my quinoa in the rice cooker and suggest you do the same]
while the quinoa cooks, take a protein of your choice, chop it up and cook in butter [you can use olive oil, but I prefer butter for this recipe]. Spice with a little salt, honey, cayenne pepper, cinnamon, coriander and cumin.
add cooked quinoa to the mix once it's done, along with dried cranberries and nuts – walnuts or cashews work well. Blend well in the pan.
spoon into cooked squash, then slice.
Enjoy!