Late last year I realized it was time to make this place more interactive, consistent and dynamic. The concept of designing the whole beast from scratch was very exciting but, with the amount of work and travel on my plate at the time, I quickly understood there was simply no way. The project has been charring its behind on the back burner until now. Though I still had zero time to devote to web design I could no longer wait! I enlisted the mad design skillz of Nubby Twiglet who'd just done a bang-up job of our Coilhouse media kit and Star St Germain to transform Biorequiem with me. And now, here it is – hussied up, blushing and ready to be sent out center-stage with a brisk slap on the ass – just as I promised!
What to expect from the new Biorequiem:
Style Dispatch After I stopped writing my wardrobe inspiration column, I spent months searchng for its new home. A blend of style advice and outfit documentation, it occasionally appeared on Coilhouse and Haute Macabre under various names but will now have its permanent [and consistent!] residence here.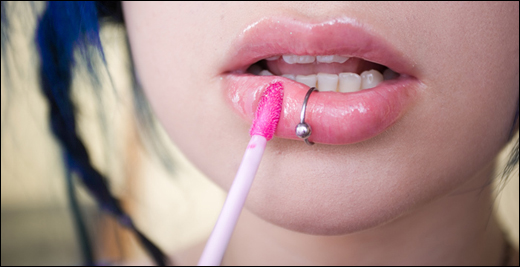 Blush Response A feature dedicated to beauty and health tips, with a name that references my favorite film, Blade Runner. You'll find instructions for caring for cartoon-colored hair and for cleaning up the mess it makes, cosmetics tutorials [I used to be a pro-make up artist and should have done this ages ago] and other useful advice on how to be a durable and aesthetically-pleasing replicant.
Photo Flurry Being a professional photographer hasn't made me any less obsessive about documenting the secret side of everything I come in contact with, and with Photo Flurry I'm going to offer updates with photos I've taken throughout the week. From cracks in the concrete to sushi to friends' clavicles – it's all going to be properly chronicled here.
Inkdrops and Oilslicks will keep track of my new artwork – same as always but with fancy names and new haircuts.
Store You can once again order prints and artwork , this time directly from me, in a civilized and seemly manner.



Sidebar Features
I'm now offering premium ad space, right on my tender and inviting left sidebar! Finally. Don't hesitate to email me for rates, before I email YOU.
For instant access, Latest Outfit and Latest Art in the right sidebar showcase the most recent additions to Style Dispatch and Inkdrops/Oilslicks.
Featured Shop Item highlights goodies up for grabs in my store.
You can also contact me, right from the front page. I'm considering an occasional interactive advice column but want to wait and see the questions I get, first. If you have a question, this is the best way to ask!
Let us join our electric antennae and together forge forth in this shiny new vessel.