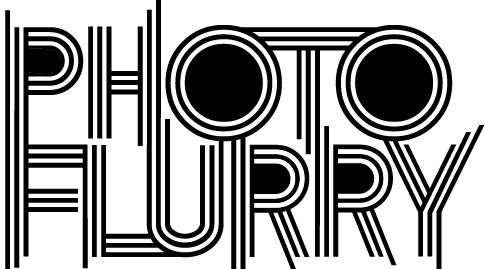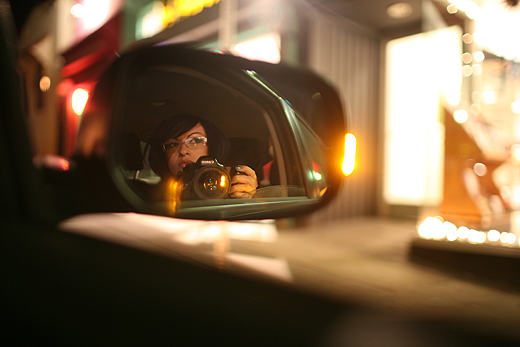 I did something I shouldn't ever do, which is let a few weeks' worth of photos build up on my machine. Not good, not good at at all, because THIS is what happens when I do it. An avalanche of information and visuals, instead of manageable bite-sized bleep and bloops. Too late for regret now, so sit back and open wide.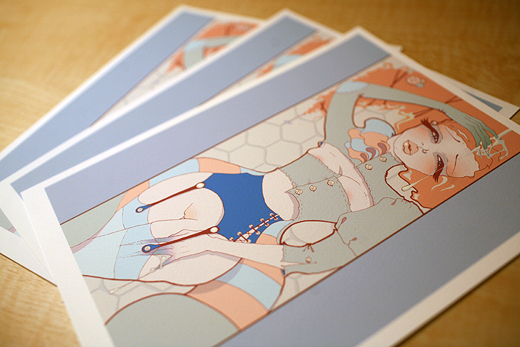 First up, last week's print orders, among them the Orange Cream version of Honeydrip and colored-in Endless Commission. I really dig photographing my prints – they feel so very different from what the images look like on-screen, more alive and tactile, with the velvety paper texture  under the ink.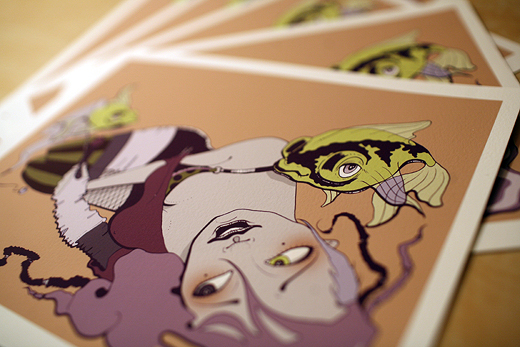 Second, here's me giving hedonism a bad name at this amazing cake shop while pimpin' literary enfant terrible/style maven Clint Catalyst's and designer Jared Gold's collaborative PRODUCT – a prize ribbon celebrating indulging in the finer things in life. Am a true hedonist? When it comes to cake, certainly. See more images from this quick shoot hurr and get your ribbon right hurr. There are other ribbons, too!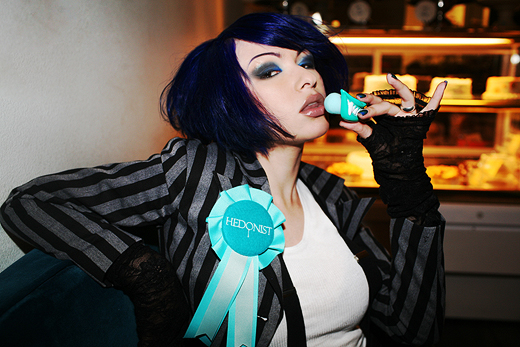 And speaking of style, here's most of the Haute Macabre crew during a rare meeting of the meats, captured by Chloe. We didn't mean to match and are still pondering how this came to be. Here's how to dress like "one of us" 1. boots 2. tight black trousers/jeans/leggings 3. drapey top 4. leather jacket/drapey jacket 5. massive scarf/cowl/hood. Black/white/gray only, obviously. I'm exempt from black hair dye.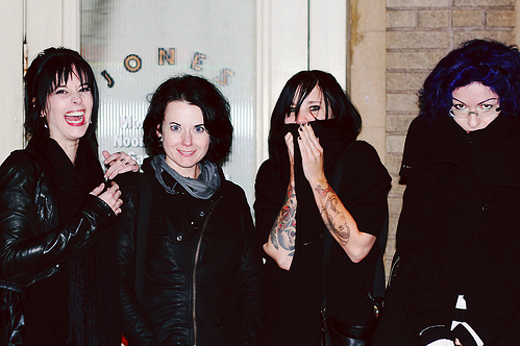 Samantha, Nixon, Courtney Riot, yours truly
Chloe also took the shot below, along with these photos at the Induced Epidemics reception. I think hers are my favorite from that night, at least from what I've seen.
Speaking of the reception, it was crazy-fun and crazy-packed. The night is a sparkling blur of meeting people, running into tons of old friends, listening to Nixon describe the technical aspects of preserving a dead boar in the back room, feasting on Skooby's incomparable fries, and then it all culminating in serious booty-shaking at the after-party.
I have an Induced Epidemics reception set of my very own on Flickr, too. A few of my favorites below, starting with this one of me with my piece. It's a one-of-a-kind version of Honeydrip in warm shades of cayenne and cinnamon, measuring 14 x 30″.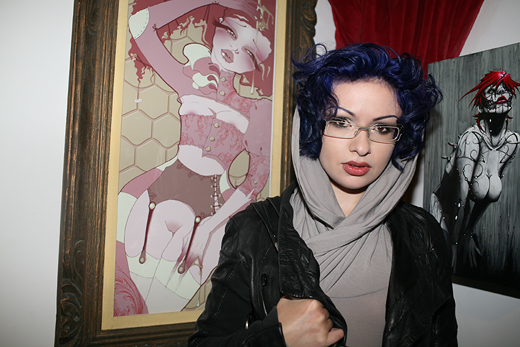 With the incredibly talented and sweet Cherry Vega and Chloe StReagan.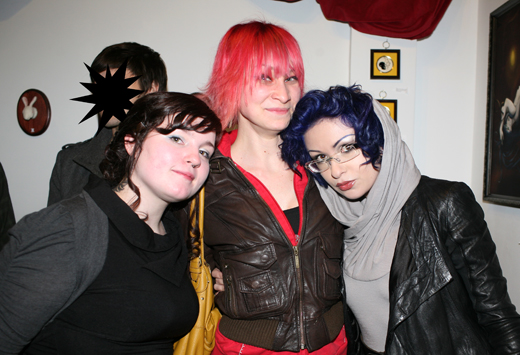 Lorraine having her shmancy heels pleasured by Clint Catalyst.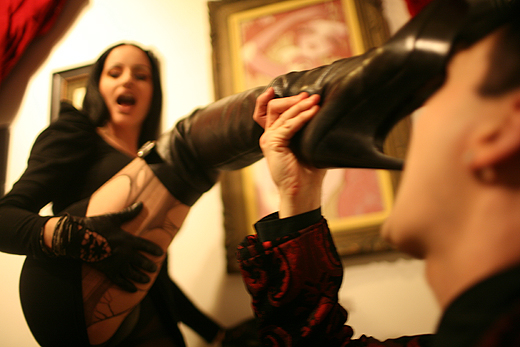 Perish and Roxy, workin' it as per usual.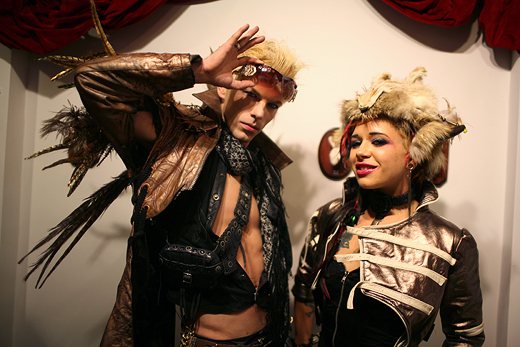 Bunnies by Zoe Williams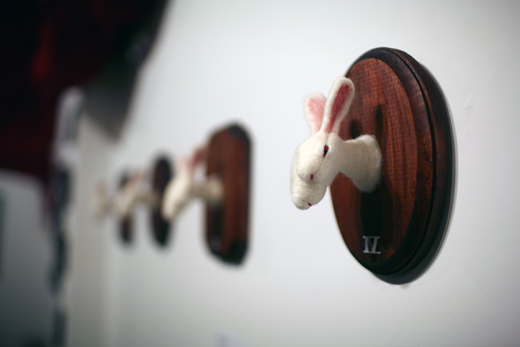 Now we begin the holiday portion of our broadcast. You've been warned.
As I've mentioned before, I don't do Christmas. It wasn't part of my culture growing up and I'm an agnostic at best, so celebrating it never quite made sense. HOWEVER! In Russia, the big winter holiday is New Year's Eve, complete with fireworks, decorated tree, gift-bearing Ded Moroz [Grandfather Frost] and his granddaughter, Snegurochka [Snowy]. Check it: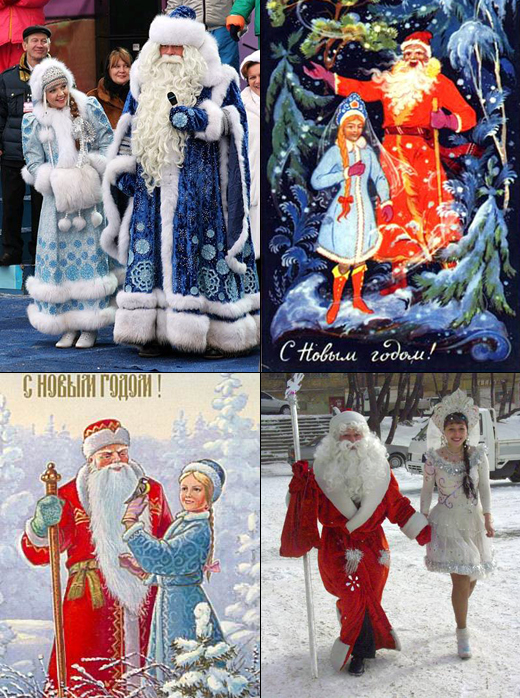 I had these two pay me annual visits until I was at least seven. My parents would invite them over, and then I danced and recited Pushkin poems about winter in order to get my gifts. You think I'm lying, maybe, but these are my fond childhood memories, dammit. These, and the ones where I was eight and, as treatment for some horrible childhood ailment, had my sinuses punctured without anesthesia at a sanitarium. Anyhow! These days, Ales and I are reveling in holiday cheer that's invaded our home thanks to this coniferous visitor. It's my first tree in a decade, it leans to the lefts, and I love it.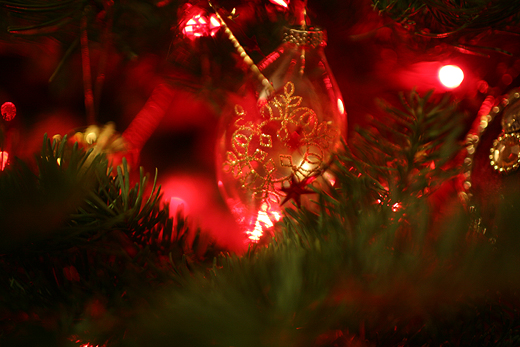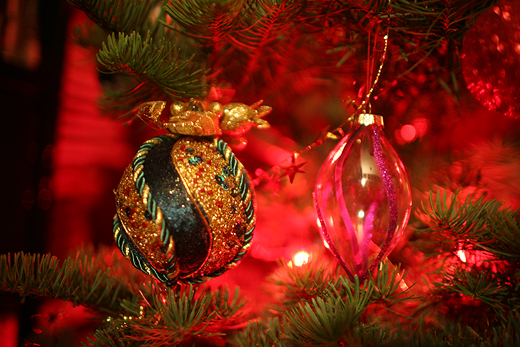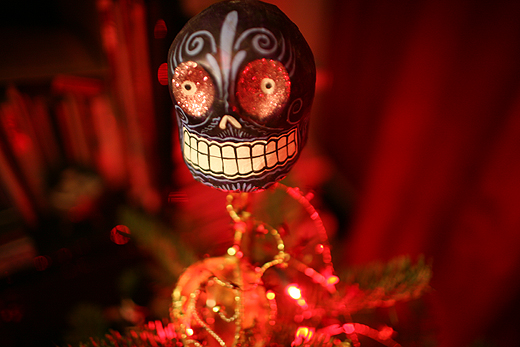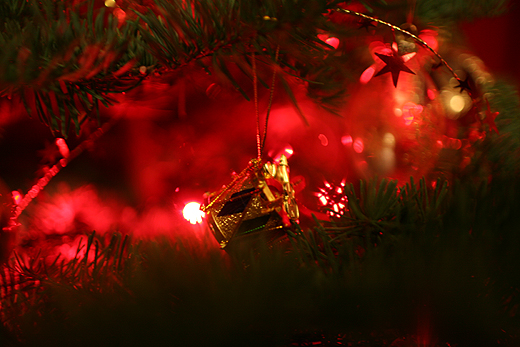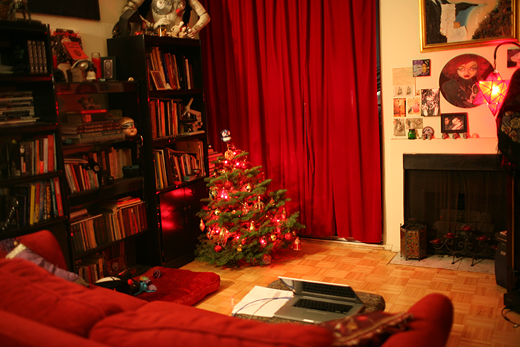 And finally… The Los Angeles SantaCon. SantaCon simply is. There is so much of it, in fact, that I actually briefly considered putting it behind under a cut. This is but a fraction – a huge SantaCon gallery is coming to ChinaShop, soon.