It's been a while since we've had a Mmmf post here, which is kind of a shame, since, food-wise, this winter has been largely about learning new recipes along with the usual seasonal culinary indulgences. To be honest, though, I'm relieved to be back to eating less decadently. [Except on the weekends, that is.] I have so much more energy and better braining power with less fat, starch and sugar in my system.
Here is what my day-to-day provisions have looked like over the past few weeks. This isn't everything, but it's representative enough. Not pictured: protein bars, almonds, apples, soups, dark chocolate and lots of chai with coconut milk.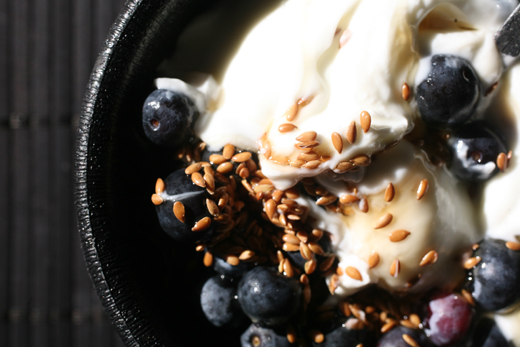 Greek yogurt with honey, blueberries and flax seeds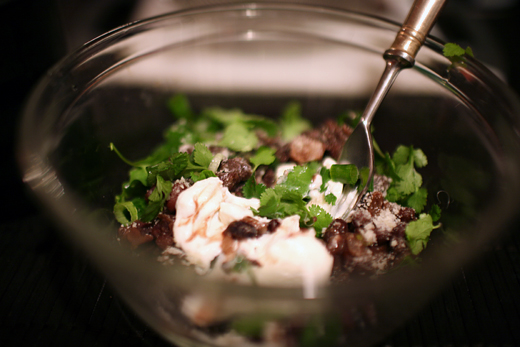 Spicy black beans and quinoa with cumin, sour cream and cilantro.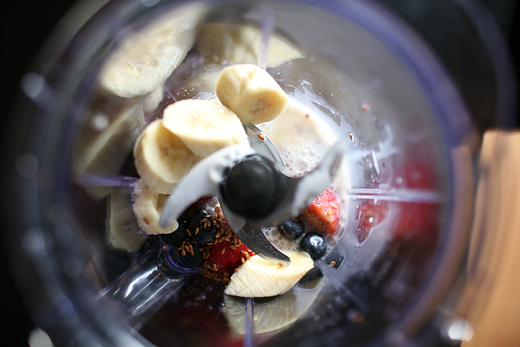 Soon-to-be-shake with almond milk, banana, strawberries, blueberries and flax seeds.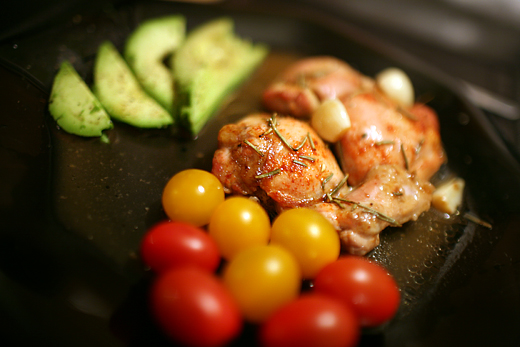 Roast skinless chicken thigh with sliced avocado and tomatoes.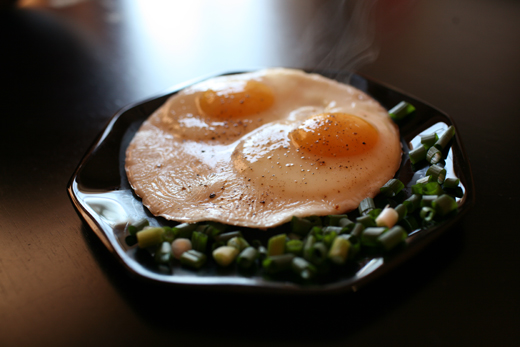 Two eggs sunny side up with green onions.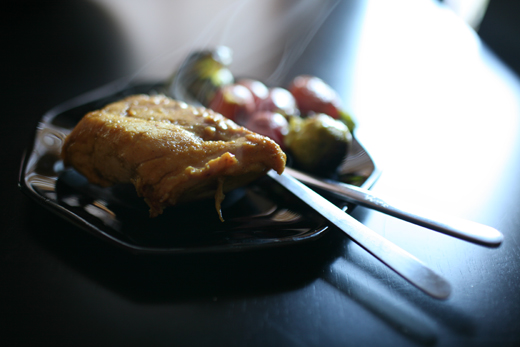 Curried chicken with roast brussels sprouts and radishes.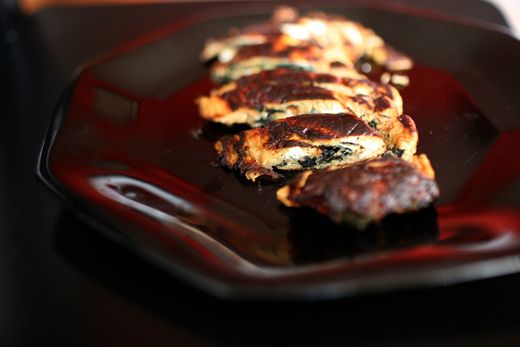 Fancy-pants rolled omelette with honey and seaweed. Mine is a slightly modified version of this. Hit the jump for the recipe!
Ingredients
3 Eggs
1/2 Cup dried sushi seaweed, cut into 1″ long, narrow strips – I used kitchen shears
1.5 Tablespoon Soy Sauce
A fair sprinkle of cayenne pepper or chili oil
1 tablespoon honey
Olive Oil
Method
Heat up a small pan (preferably with high sides) on low-medium heat.
Once the pan is hot, add about 2 tablespoons of vegetable or olive oil.
Break the eggs into a small bowl, add the chili oil, honey, and soy sauce, and beat the eggs with a fork.
When the oil in the pan is hot, pour half of the egg mixture into the pan. Swirl/Spread the egg around the pan so that it fills the bottom, and then sprinkle half of the seaweed over the egg.
Let the under side of the egg slowly cook. Then, using a spatula (or even two spatulas), lift up a 1 inch portion of the egg and fold it over the top. Let the egg cook a little bit, and then repeat folding the egg, until it's all rolled up.
Push the rolled omelette back to the other side of the pan, and pour the rest of the egg in. Sprinkle the last of the seaweed onto the egg, and repeat step 4 using the already rolled egg as the inside.
Let the rolled omelette slowly cook in the pan until the wider sides are nice and browned.
Take the omelette out, and slice it into half inch slices. Mmf.