After one week of juicing and two weeks of eating raw, I seem to have found a system that works long-term. During the raw weeks, I discovered just how much I genuinely loved eating and preparing raw food at home, so I've stuck with it. This, however, did not stop me on Sunday, when I sunk my teeth into some of the world's finest BBQ.
Since embarking on this food reboot almost a month ago, I have noticed some major changes. For instance, I can hardly drink anymore, because I'm hyper-aware of the exact effects of alcohol on my liver, energy, and mood. This makes the occasional drink even more of a decadent experience. One cup of white tea has me bouncing off the walls now. Eating heavy stuff like red meat has to be in moderation, too. In short, I'm becoming a lot more in tune with my body, and enjoying it immensely.
My so-called system consists of eating primarily raw at home, and not when I'm out – if I feel like it. This is all still very much in line with the idea of eating what I want, actually, because the raw menu I'm slowly compiling is so very good. I've been using this site for food preparation ideas. It has quite a few delicious recipes, along with raw shopping lists. Here are some of the dishes I've tried so far,  in a succession from lightning-fast to somewhat time-consuming:
I've been having this almost every day. Just slice a banana and throw it in a bowl with fresh blueberries, a pinch of flax seeds and some almond milk. To die for, every time.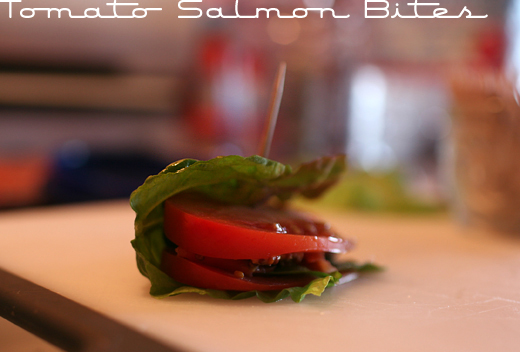 Tomato
1-2 leaves of basil
Smoked salmon
A small dollop of mustard or pesto
Lettuce [not iceberg]
Stack, wrap, eat!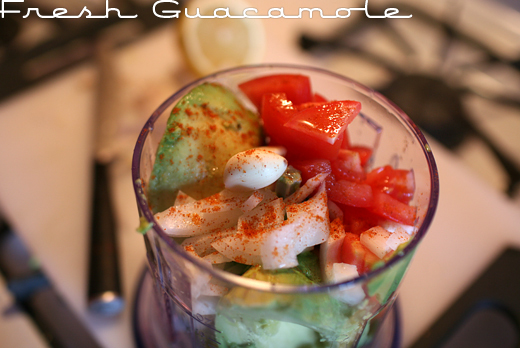 Lemon or lime juice
2 large, ripe avocados
white onion to taste
1 medium tomato
1 clove of garlic
1 pinch of sea salt [do not skip this]
cayenne pepper to taste
black pepper
The photo lies! You don't actually want to put avocados into the food processor. Technically, you could, but the consistency will be super-smooth. I prefer my guacamole chunky! If you do, too, blend everything besides avocados into small chunks, then add to a large bowl of half-squashed avocados and mash together. Great on carrots, peeled cucumber wedges, or these.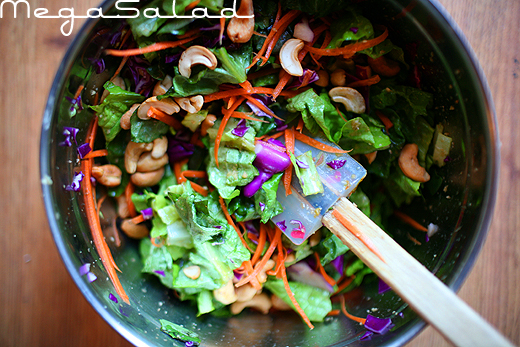 Dark green lettuce
Purple cabbage
Carrot
Dried cranberries
Cashews
Raw ginger
Soy Sauce
Sesame oil
Olive oil
A few drops of chili oil
Combine ginger, sesame oil, chili oil and olive oil in a food processor, then blend. This is your dressing. Chop the lettuce and cabbage, shave the carrot, combine in a bowl with cashews and cranberries, then toss with the dressing. Ta-da! This salad is delicious, crunchy, and filling.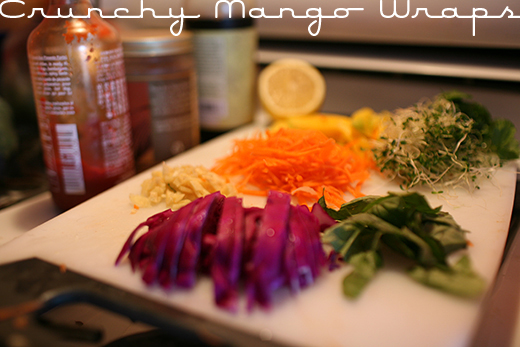 This takes the longest to prepare, but is still super easy and INCREDIBLE. You will need:
Purple cabbage, chopped
Shaved carrots
Alfalfa sprouts
Fresh basil, ripped
Cilantro leaves, torn
Mango, peeled and sliced
Fresh ginger
Lemon juice
Almond butter
Chili or Siracha sauce
Soy sauce
Honey
These wraps are, basically, this recipe, but I'll copy + paste it here for you, with a few of my own changes. The only real difference is that I used lettuce to wrap instead of spinach leaves, and skipped the hemp seed and sea salt because the soy sauce was salty enough.
In a high-speed blender, puree the honey, lemon juice, ginger, red chili, and soy sauce. Add the almond butter and blend at low speed to combine.
In a bowl, mix the almond butter dressing with the cabbage. The best and easiest way is to do this with you hands or a large wooden spoon.
Place the lettuce leaf on a cutting board with the underside facing up. Then, put some of the cabbage mix on the leaf. Add a few shavings of carrot, some sprouts, a few pieces of mango, a few leaves of cilantro and basil.
Roll up or fold the lettuce leaf – you might need a cocktail stick for it to hold. Personally, I don't let it get that far, because this recipe is actually ideal for preparing as you eat, which helps to gauge how full you're actually getting. Ales and I even took all the separate, prepared ingredients with us on a picnic last week, and made these wraps by the ocean. Mmmf!