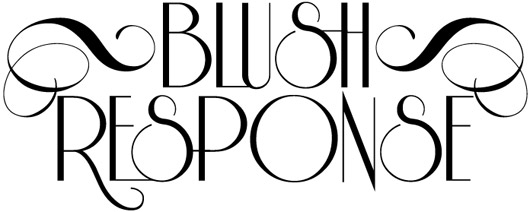 This edition of Blush Response is brought to you by the lush eye shadows of Aromaleigh [again] and the recent Master and Margarita session of Sketchy's NYC. I was going for an updated super-vamp look when shooting the promo image for this event, with soft curls, dark, smoky eyes and deep cherry lips.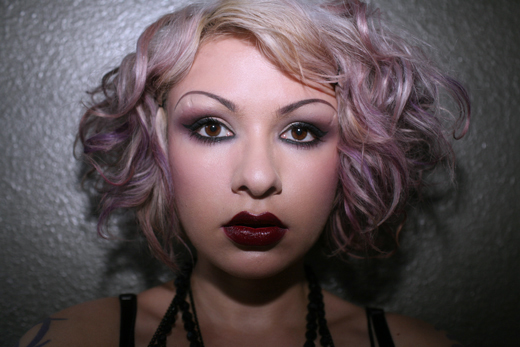 HAIR
Separating 2-inch-wide sections, curl with a medium-barrel curling iron
Spray each curled section and let cool – I use Big Sexy Hair Spray & Play
Once hair is curled and cool, run your fingers through it to transform curled sections from doll-like ringlets into softer waves
Use a comb to tease and mess
Pin with bobby-pins to taste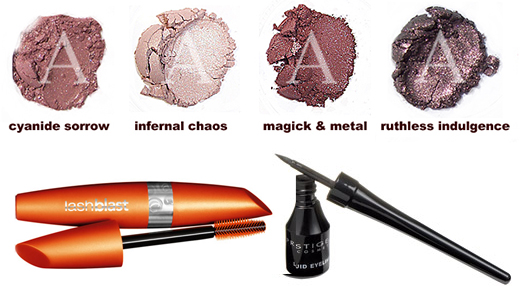 EYES
I used Aromaleigh* Victoria's Revenge eye shadow line for 75% of my look, including blush and eyebrows.
Prime. Prime, prime, prime! These shadows do not do well without a base.
Dust Cyanide Sorrow all over the upper lid, blending out near the brow
Use Magick & Metal to accentuate the crease & lower lash line under the eye
With Ruthless Indulgence [hawtt damn I love this one] accentuate the outer creases, blending up and out
Highlight the inner lid corners and brow bone with Infernal Chaos
Using Prestige liquid eye liner, create a cat eye, then carefully and minimally line around the entire eye
Use a small smudging brush and blend under the eye with a bit of black shadow. I used Sugarpill's Bulletproof.
Mascara! Lots of it. I've just switched to CoverGirl's LashBlast Volume, with that adorable rubber brush and I may never go back.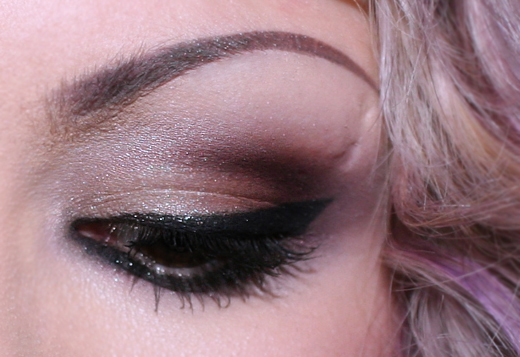 LIPS
9. Line with a dark red liner, then fill in with dark red lipstick — I used cheap-o drug store brands for this and it worked out just fine.
CHEEKS
10. Brush Magick & Metal on your cheeks and blend
SKIN
11. I used Bare Escentuals mineral foundation in Fairly Light. Sometimes I apply my foundation first, sometimes last, depending on how much cleanup I think the eye makeup will need. In the case of extra dark shadows, I tend to do the foundation last.

*Sadly, Aromaleigh is going out of business, but the good news is that they are offering a 35% discount on their site right now, with the code ADIEU35. Go forth and order, before it's all gone forever!