Crisp autumn weather is perfect for almost everything. Reading, writing, making art, movie nights… Unfortunately, the chill can also lead to a variety of ailments. Between copious amounts of vitamins, hot ginger-honey tea and rest many of them can be warded off, but nothing weaves the health magic like Magic Soup.
Over the past few days I've spent my time crawling from bed to couch, unable to even console myself with books because of daily migraines – a sad state of affairs. Fortunately, I happen to know a powerful soup recipe and A made it for us. I picked up the camera in my trembling hands to document the process.
This miraculous concoction comes to you from Travis Louie, who's not just an incredibly talented artist, but a gifted soup alchemist as well. I've seen him cure with this potion before, and have been craving it ever since. It's a straightforward recipe that will take about two and  a half hours to prepare.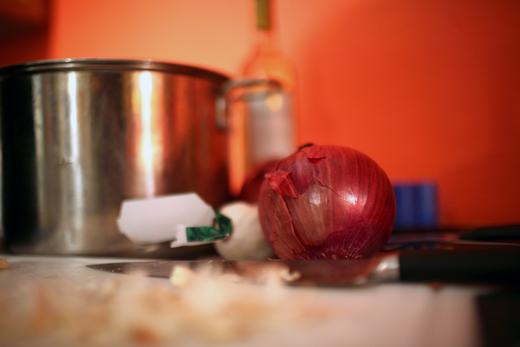 INGEDIENTS
ginger
turnips
leeks
onions
garlic
parsnips
2-3 tablespoons of miso paste
chicken parts
various peppers [cayenne, white, powdered black]
salt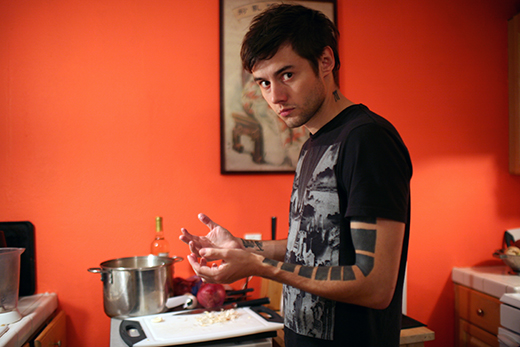 Warning: adding an entire bulb of garlic will make your hands very sticky.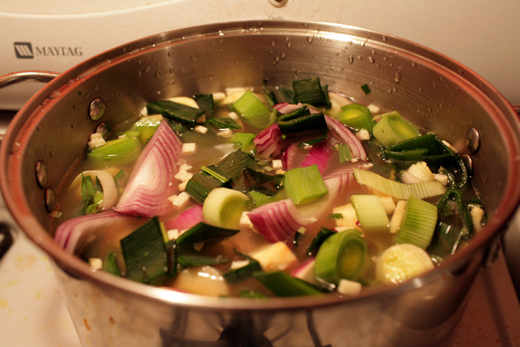 METHOD
Bring about 2 qts of water to boil with all the ingredients [the water level before you turn on the stove should be at least 1 inch over the ingredients]
Add salt and pepper [careful with the salt, miso is salty!]
Boil for a few minutes, then turn down heat to Medium and simmer for 1hr
Add a cup of white wine
Garnish with crushed garlic and fresh leek greens. You also could add turnip greens or water crest.
Now STUFF YOUR FACE and keep a box of tissues nearby, especially if you made it on the spicy side, like we did. Mmmf!