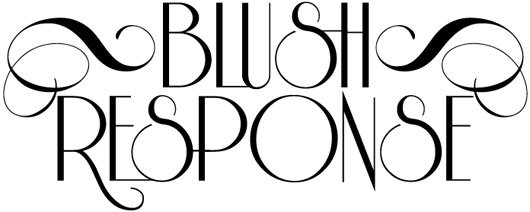 I know it's Tuesday, but does that really matter? No, it does not, and so I officially declare this week, Biorequiem Beauty Week. This, rather broad, topic means reviews, answering more of your beauty questions, scolding some of you for asking stuff I've already covered, and so on. Then, it will all culminate with a therapeutic tar and feathers party on Friday. Two of these things are false.
Anyhow! A couple of weeks ago, the folks at EnvyDerm asked me to do a giveaway. In the interest of full disclosure, no, I do not have a relationship with this company, they just wrote and asked if I'd be down.  Now, what kind of a hostess would I be, if I were to give away something I've never even used? What if this stuff made your eyelids stick together, FOREVER? Or turned your skin green? You'd never forgive me.
Thus, I explained my position and asked for a sample, so I could guinea pig it for you first, and they agreed. This is EnvyDerm: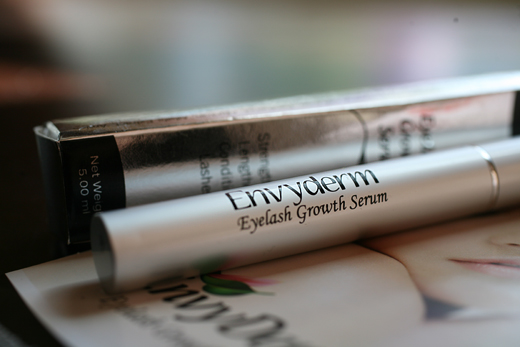 From their website:
EnvyDerm Eyelash Growth Serum is a gentle, non-prescription formula that promotes natural eyelash growth to give you longer, fuller and darker lashes. Our product contains only safe ingredients tested by ophthalmologists with no animal testing.

EnvyDerm Eyelash Growth Serum uses powerful SymPeptide technology to lengthen and strengthen your natural lashes, while reinforcing the hair with nourishing proteins, vitamins and moisturizers.
Sounds good so far! The booklet I was sent suggests 25% eyelash growth in 2 weeks of use. I could use that, sure. From what I gather, it strengthens the lashes you already have, and makes them longer, rather than make you grow new ones. The idea is to apply it once a day, onto completely clean skin, same as you would apply eyeliner. Here is what the applicator looks like: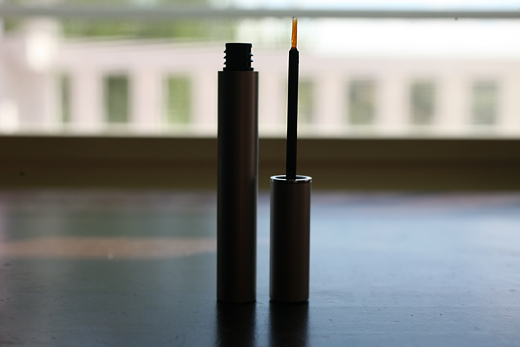 I decided to begin my trial last night, as doing this before bed seemed to make the most sense. The first step was to remove all traces of eye make-up, which was actually far more involved than I anticipated. I used a non-oily eye make-up remover from Lancome, first on a cotton round, then on cotton swabs, really gettin' in there to make sure my skin was clean and ready to absorb Envyderm. Step two was to apply to bot upper and lower lash lines, which was easy. The serum is a clear liquid and went on super-smoothly. I decided to keep my eyes closed for a little while and let it dry before going to bed.
Here is a Before shot of my right eye: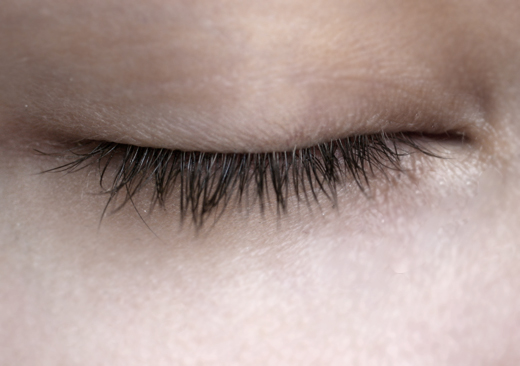 Check back in 2 weeks for a progress report! If all goes well and we see RESULTS, I will conduct that giveaway in a 6 weeks or so.
This week, I'm going to be answering select questions. I have actual hundreds backed up in the ol' Formspring account, but if you have something beauty-related to ask, do so. All I request is that you remember I won't be able to get to every question, and please check out previous editions of Blush Response and Interrogation Station before you ask. These categories are in the left column, click each one and peruse away!