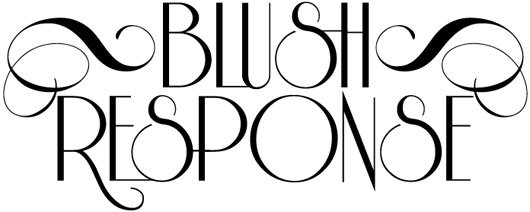 The very first Blush Response is finally here! Today, our topic is Color Maintenance. I'm pretty excited to get this one out there because longevity is the most troublesome issue when it comes to unconventional hair color. Sadly, most of the jewel tones we love are made semi-permanent. Upon finally reaching that brilliant shade we've been lusting after it's so disheartening to watch it fade and literally go down the drain wash after wash. It doesn't have to be this way! Below, my top 4 color maintenance tricks.
1. Magic Mop Mix

So it's not exactly magic or rocket science, but man is it ever effective. Here's what you do: combine two parts conditioner to one part hair dye in a bottle.  Keep the bottle in the shower and use this blend exclusively in place of regular conditioner – wear gloves of apply very quickly, as this will stain your palms a bit. Magic Mop Mix will keep your mop's color poppin' at least twice as long as with using conditioner alone. Simple, yes? And exceptionally effective. I use Extreme conditioner from Redken's Extreme line.
This stuff does wonders for keeping my hair shiny and protects it from becoming blue dried-up wads of cotton candy. I also use this line's shampoo when I have to. I love that it's X-TREEM, that I can get it at most supermarkets and, let's face facts, I dig the blue packaging.
2. Shampoo Is Not Your Friend
Though shampoo is your hair color's #1 enemy, shampooing is still necessary to keep scalps and follicles happy, healthy and free of  buildup. It's a catch-22 but there is hope. My fellow intrepid hair adventurers, I am here to say that you can extend the in-between periods, thus prolonging your color's lifespan. If the majority of your head has been bleached, you've probably already noticed that it doesn't need as much washing. This is because bleached hair is more porous than virgin hair, so it doesn't get limp and oily as fast. Still, if you use a lot of product like hairspray or goop of any sort, you gots to wash every few days, whether you like it or not. If you're just trying to de-gunk, or perhaps to rid yourself of last night's curls you can wash with water and condition with your Magic Mop Mix, bypassing shampoo entirely. If your hair is a few different colors, you'll want to use regular conditioner or devise a separation system. Again, you cannot replace shampooing entirely, but this will keep your color alive and your hair from dying out!
3. Corn Starch IS Your Friend
Miracle treatment! De-grease stringy bangs and roots in seconds! This is beyond simple and I'm always surprised when peeps haven't heard of corn starch's hair-cleaning power, so I'm putting it here for all to see and reap the benefits. Just sprinkle a little bit on your hands and run your fingers through dry hair, shaking out excess powder. The starch will absorb excess oil, giving your hair a clean look.  It's a cheap, simple quick fix for hair you're not quite ready to wash. It's also a perfectly respectable alternative to dry shampoo. In fact, some dry shampoos and hair refreshers use corn starch as their main ingredients.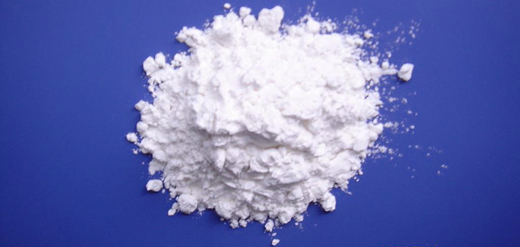 Remember, your hair must remain dry or the powder will cake! You might want to try other starches out there, as well. Be creative, just stay away from using baby powder in this manner – talc was recently linked to cancer.
4. Touch-Ups Without Bleaching
Just what it sounds like! This is especially useful if you have dark hair dyed a dark shade, or light hair dyed a light shade – basically as long as your roots don't contrast with your dye too much. You can wait a couple of months between attacking your head with bleach simply by dying all over every few weeks.  The color will be back and roots will be tinted in half the time and, if you're using vegetable-based dyes, with zero damage. My weapons of choice: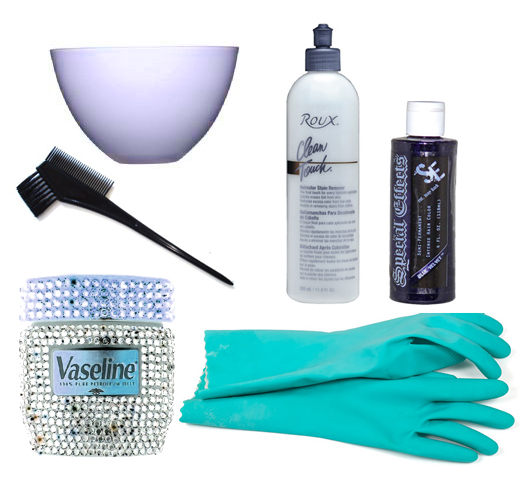 Bowl – it's a bowl
Tint brush+comb – I love twirling mine around to comb in dye and ensure thorough application
Roux CleanTouch – I have this dye stain remover at the ready in case of drips
Special Effects dye in "Blue Velvet"
Vaseline – apply this on your hairline, ears and  your neck to keep stains away
Gloves – I pity da fool who doesn't use gloves and then spends 45 minutes trying to get dye off their fingers and nails.
Armed with the above, I apply the color all over, adorn my head with a sexy plastic wrap turban and keep it on overnight. I'm pretty sure this is excessive and leaving it on for a couple of hours will suffice just fine.
And there you have it, my beautiful mutants. I hope you find the above helpful and share your feedback once you try these tips! This took longer than I expected to put together, mostly because I received so many great questions about technicolor hair on Twitter – thank you! Because of the sheer volume of your questions I'm going to address them in a separate post, soon. SOON!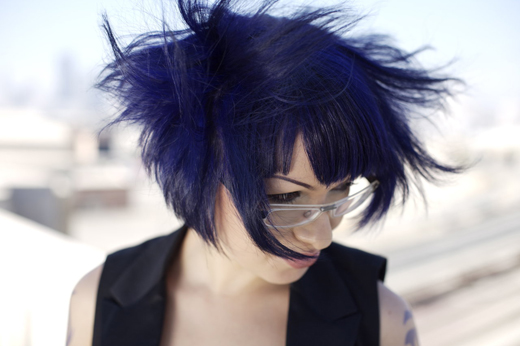 My freshly-re-dyed hair on Saturday, by Lou O'Bedlam